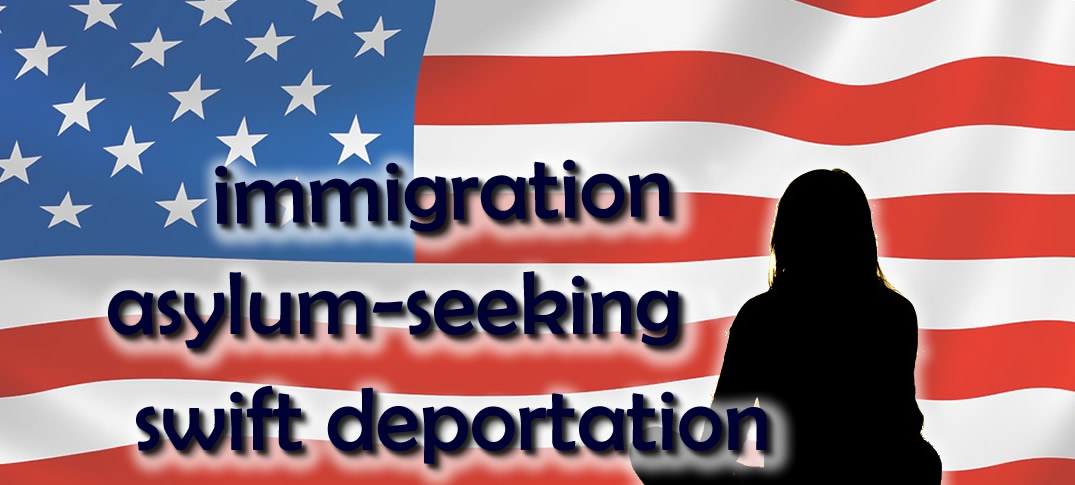 By Kathryn Shepherd and Royce Bernstein Murray
"I was interviewed by a male asylum officer. He asked me if I wanted to be interviewed by a female officer and I said that I had no preference. At that moment I felt uncomfortable telling the officer that I didn't want to be interviewed by him. I had been raped in Guatemala and I could not share that entire story with a male officer. But I didn't feel like I could tell him that I wanted to change officials. If I had a female officer I might have been able to tell her my full story. I felt fear and shame at the interview. I also feared that my husband could find out that I had been raped if I had said it. I can't tell my husband because he would reject me and blame me. In my culture, if a man does improper things to a woman, most of the time the woman is blamed. My people think that if a man "crossed the line" it is because the woman allowed him to. In the Mam culture, men are the ones who rule and women have to obey their fathers and husbands."
These are the words of Valeria, a Guatemalan asylum seeker, who described the difficulty she had sharing critical aspects of her claim to the asylum officer during her screening interview. Valeria fled Guatemala with Idalia, her then 7-year-old daughter, after years of extreme physical violence at the hands of Valeria's father, rape by her ex-partner, and, more recently, a brutal gang rape by members of a transnational criminal organization (TCO).
Valeria and Idalia sought asylum in the United States, but were detained and placed in the expedited removal process. They were required to undergo the credible fear interview process—the first step for asylum seekers in fast-track removal processes—before being released from detention and permitted to continue fighting their case in immigration court. During those weeks in custody, the U.S. government expected Valeria to quickly navigate a complex asylum system in an atmosphere that frequently impedes a fair hearing. Valeria was required to overcome the challenges of speaking a rare language and articulating a traumatic story before she could pursue her claim for asylum in a full merits hearing with an immigration judge.
In years past, Valeria and Idalia might have been given the chance to make their case directly to an immigration judge, providing ample time to seek legal counsel and prepare to tell their stories fully. However, protection for asylum-seeking families like Valeria's has been more difficult to access since 2014. In response to the dramatic rise in Central American families arriving at the southwest border to seek asylum, the government sought to stem the number of asylum claims by reducing the time and opportunity available to make a claim for asylum. This has been accomplished largely by placing many of these families in remote detention facilities while subjecting them to fast-track deportation processes. These processes involve remarkably complex procedures designed to prevent the unlawful deportation of asylum seekers, yet in practice they create additional barriers for many families.
Given that very few asylum-seeking families speak English, most have experienced significant trauma in their countries or during their journeys north, and they have no right to government-appointed legal counsel, the bureaucratic hurdles can be insurmountable. The added stress of detention, particularly detention of children, further complicates most mothers' ability to remain focused on presenting a clear case for asylum. Nuanced legal standards applied by government officials asking difficult questions about a family's worst fears and experiences threaten to transform what is meant to be merely a preliminary screening process into a full-blown, high-stakes asylum interview.
For many families, the physical presence of pro bono legal counsel at family detention facilities has made all the difference in their opportunity to seek asylum. But even for those who successfully navigate the process with the help of legal counsel, the challenges are extraordinary. Identifying and categorizing these challenges not only illustrates the high barriers to accessing the asylum system and immigration court, but also demonstrates why attorneys are an essential part of the process. To understand these interconnected issues, the authors drew from thousands of case files of families detained at the South Texas Family Residential Center in (STFRC) in Dilley, Texas—the country's largest family detention center—to identify some of those who experienced challenges in their pursuit of protection. Although many of the families whose stories are highlighted in this report were ultimately able to forestall immediate deportation and will have their asylum cases heard by an immigration judge, in all of the cases the presence of legal counsel enabled the families to overcome the multiple challenges they faced. These accounts from women and children provide a window into how these challenges plague all asylum seekers subjected to fast-track deportations while held in detention facilities throughout the country.
U.S. "Expedited Removal" Policy and Asylum Seekers at the Border
Beginning in the spring of 2014, the United States saw a dramatic uptick in arrivals of Central American mothers with children, as well as unaccompanied children, at the southern border in the Rio Grande Valley of Texas. While there is always a confluence of factors that drive a wave of migration at any one time, epidemic levels of violence and impunity in the Northern Triangle of Central America (comprising El Salvador, Guatemala, and Honduras) unmistakably drove these vulnerable groups to flee their countries in search of protection. The murder rates in these countries are among the highest in the world. In 2016, El Salvador was the most violent nation in the Americas, while the murder rates in Honduras and Guatemala were among the five highest in the hemisphere.
Although most victims of murder in these countries are men, there is acute violence against women. In 2012, El Salvador and Guatemala were ranked first and third, respectively, as having the highest murder rates for women in the world. Gang activity is a major cause of the violence that plagues the region. Teenage boys are targeted for gang recruitment under threat of death, while women and girls are forced to become "gang girlfriends" and the "property" of gang members or face a similar fate. These threats are often compounded by rampant domestic violence and threats of political persecution that jeopardize the well-being and stability of many families fleeing the Northern Triangle and parts of the Caribbean.
The migration routes from many countries to the United States are well-trod; for decades asylum seekers and migrants have made the journey to flee civil wars, poverty, and environmental disasters. Many who are fleeing Central America turn to the United States as a strong option for safe haven, given family and community ties. Most who fled in recent years knew full well the risks and perils they would face on the journey—traffickers, cartels, and bandits prey on migrants along the way— but left anyway. The search for safety was a necessity and remaining at home was no longer an option.
When more asylum-seeking families arrived at the U.S.-Mexico border in 2014, the U.S. government quickly ramped up capacity to detain arriving families with the creation of large detention facilities in Artesia, New Mexico (closed in December 2014); Karnes City, Texas; and Dilley, Texas. Prior to this, only a small residential facility in Berks County, Pennsylvania, was in operation. By the spring of 2015, the Department of Homeland Security (DHS) had approximately 3,300 beds and cribs to detain mothers and their minor children, who ranged from newborns to near 18-year-olds.
Most families placed in detention are in a fast-track deportation process called "expedited removal." A person subject to expedited removal (which, under current U.S. policy, may include those apprehended within 100 miles of a U.S. land border and within 14 days of entry) can be immediately ordered deported by an immigration officer without ever seeing an immigration judge. Those who tell a DHS official that they are afraid to return to their home countries are given screening interviews with an asylum officer to see if they have a credible fear of persecution. If so, they are entitled to a full asylum hearing before an immigration judge. If not, they face swift deportation unless they seek review of the negative determination by an immigration judge, which is generally cursory.
This process, while complex, is supposed to ensure asylum seekers are not unlawfully deported to a country where they could face grave harm or death. In practice, however, U.S. Customs and Border Protection (CBP) officers do not always adequately screen migrants or ask if they fear return to their home countries. At times agents ignore expressions of fear and summarily deport asylum seekers. Less than 20 percent of the people ordered removed ever see an in immigration judge due to CBP's use of summary removal processes.
Última Actualización: Mayo 22 de 2017
Source: https://www.americanimmigrationcouncil.org