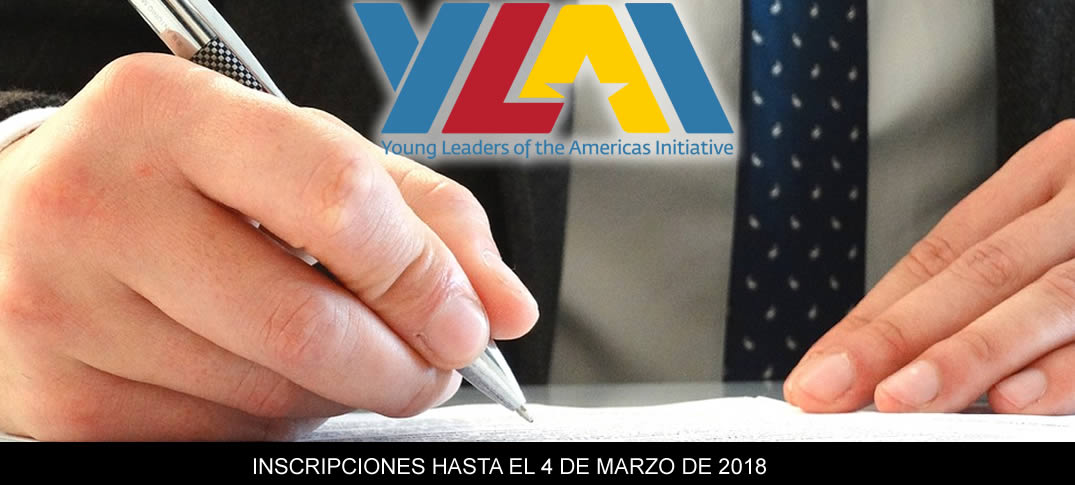 A partir del 5 de Febrero de 2018 y hasta el 4 de marzo de 2018 estarán abiertas las inscripciones al Programa Jóvenes Líderes de las Américas YLAI, que seleccionara a 250 jóvenes de América Latina y del Caribe, los cuales recibirán capacitación profesional en los Estados Unidos con todos los gastos pagos.
Básicamente el programa Incluye:
Soporte de visa J-1.
Viaje de ida y vuelta desde la ciudad de origen del participante a los Estados Unidos y todos los viajes requeridos por programa.
Entrenamientos y cursos del YLAI Entrepreneurship Institute.
Asistencia a la apertura del programa en un centro empresarial en los Estados Unidos y el Foro de Clausura en Washington, D.C.
Experiencia de desarrollo profesional de cuatro semanas.
Cobertura médica por accidente y enfermedad.
Vivienda y comidas durante todo el programa.
Los candidatos serán considerados sin distinción de raza, color, religión, sexo, género, sexualidad, origen nacional, discapacidad o cualquier otra característica protegida según lo establece la ley de los Estados Unidos. Los solicitantes con discapacidades son elegibles y se les anima a postularse al Programa de Becarios Profesionales de YLAI. Los requisitos básicos para participar son:
Tener entre 25 y 35 años antes del 15 de septiembre de 2018.
Ser residente y ciudadano de uno de los países participantes *: Antigua y Barbuda, Argentina, Aruba, Bahamas, Barbados, Belice, Bolivia, Brasil, Chile, Colombia, Costa Rica, Cuba, Curazao, Dominica, República Dominicana, Ecuador, El Salvador, Granada, Guatemala, Guyana, Haití, Honduras, Jamaica, México, Nicaragua, Panamá, Paraguay, Perú, Saint Kitts y Nevis, Santa Lucía, San Vicente y las Granadinas, St. Maarten, Suriname, Trinidad y Tobago , Uruguay, Venezuela.
En los casos específicos de residencia en Aruba, Curacao y St. Maarten, se acepta la ciudadanía en los Países Bajos
Tener un historial demostrado de crecimiento exitoso de su propio negocio o empresa social durante al menos dos (2) años.
No ser ciudadano, ni residente permanente de los Estados Unidos.
No ser un empleado del gobierno de Estados Unidos.
Ser competente en el manejo del idioma ingles (leer, escribir y hablar inglés.)
El Departamento de Estado de EE. UU. Y el Centro Internacional Meridian se reservan el derecho de verificar toda la información incluida en la solicitud. En el caso de que exista una discrepancia, o se descubra que la información es falsa, la solicitud será inmediatamente declarada inválida y el solicitante no elegible.
Para postularse y conocer más sobre los requisitos de elegibilidad para la beca, visita ylai.state.gov/fellowship (en inglés).
Recuerde que el programa de becarios profesionales de YLAI es una competencia abierta basada en el mérito y no hay costo para aplicar. Después de la fecha límite de inscripción, el domingo 4 de marzo de 2018 11:59 PM hora del Este, un panel de selección revisara todas las solicitudes elegibles. Se contactará a los semifinalistas para programar una entrevista en mayo. Todos los solicitantes serán notificados de su estado en julio de 2018.
Información adicional del programa Jóvenes Líderes de las Américas
¿Qué es la Iniciativa de Jóvenes Líderes de las Américas?
La Iniciativa "Jóvenes Líderes de las Américas" (Young Leaders of the Americas Initiative, YLAI) es el principal programa estadounidense de intercambio en el hemisferio. Establecida en 2016, proporciona 250 becas cada año que permitirán a participantes de América Latina y el Caribe de origen latino desarrollar empresas conjuntas e iniciativas para emprendimientos sociales. El trabajo se realiza en universidades, incubadoras y organizaciones no gubernamentales de todo Estados Unidos a la vez que se llevarán a cabo intercambios que enviarán a estadounidenses a los países de sus contrapartes para continuar la colaboración. Además de las redes de contacto profesionales y la asesoría que forman parte de esta experiencia, los becarios tendrán la oportunidad de desarrollar su liderazgo y ampliar su capacidad empresarial con sus contrapartes estadounidenses.
¿Qué es la "Red YLAI"?
La Iniciativa Jóvenes Líderes de las Américas, o Red YLAI, es una comunidad de miles de jóvenes emprendedores, creadores de cambios y aspirantes a líderes de América Latina y el Caribe. Todos los interesados en adquirir las herramientas y las conexiones para impulsar cambios positivos en el trabajo, en la comunidad e incluso en un país se pueden unir a la Red YLAI (en inglés).
Muchos miembros están pensando en comenzar sus propias empresas u organizaciones, y muchos ya lo han hecho y están listos para crecer. Entran en contacto con expertos de la región y comparten ideas para desarrollar sus empresas y ayudar a sus comunidades. Los miembros pueden acceder a contenido digital, charlas interactivas, eventos y consejos sobre liderazgo, emprendimiento y otros temas.
¿Por qué se lanzó YLAI?
Los jóvenes (15-24 años) en América Latina y el Caribe ahora son más de 100 millones. En muchos países de la región, el 70 por ciento de la población tiene menos de 35 años. Sin embargo, para esta gran generación, la vida adulta en sus primeros años llega acompañada de un acceso limitado a empleos, capital u oportunidades educativas avanzadas, además de la atracción continua a alternativas ilícitas. Los activistas jóvenes, incluyendo los emprendedores sociales, pueden desempeñar un papel fundamental para mejorar sus países, incluso en colaboración con los gobiernos. Sin embargo, necesitan otras herramientas y conexiones entre ellos y con mentores para impulsar la prosperidad, mejorar la gobernanza y el estado de derecho de sus sociedades.
¿Cuáles son los objetivos específicos de YLAI?
El objetivo de la YLAI es desarrollar el conocimiento, las habilidades y la capacidad de contacto de los jóvenes líderes del Hemisferio Occidental. La iniciativa también pretende ampliar los lazos entre los emprendedores y activistas de la sociedad civil más prometedores de América Latina y el Caribe con sus colegas de Estados Unidos. Como parte de estas actividades, YLAI trabaja con sus socios para construir un entorno de apoyo a fin de facilitar la iniciativa empresarial, especialmente para nuevas empresas de alto crecimiento orientadas a la innovación creadas por personas jóvenes. Por último, YLAI apoya a la sociedad civil, especialmente a emprendedores sociales de toda la región de las Américas, para reforzar la respuesta de la sociedad a las expectativas de los ciudadanos para un mayor desarrollo, una mejor gobernabilidad y un estado de derecho más fuerte.
¿Qué logrará YLAI?
Cada año, 250 becarios tendrán la oportunidad de crear o acelerar el crecimiento de sus negocios u organizaciones de sociedad civil, incluyendo emprendimientos sociales. Este programa está abierto a jóvenes emprendedores que tengan entre 25 y 35 años de edad, que son seleccionados para participar mediante un competitivo proceso de postulación. YLAI tiene el objetivo de fomentar más de 50 asociaciones de empresas formales y de la sociedad civil cada año entre entidades empresariales emergentes y de la sociedad civil en América Latina y el Caribe con sus contrapartes en Estados Unidos. La iniciativa ayudará a los becarios a atraer apoyo adicional, inversiones y recursos en especie para sus negocios u organizaciones. Para los negocios emergentes, empresas sociales y organizaciones de sociedad civil, la infusión de fondos, recursos y apoyo desempeñará un papel crucial en su crecimiento.
Recuerde para postularse y conocer más sobre los requisitos de elegibilidad para la beca, visita ylai.state.gov/fellowship (en inglés).
Última Actualización: Febrero 05 de 2018
Fuente: https://ylai.state.gov/ – https://share.america.gov